Thursday, 1 February 2007
Why am I not surprised that Paul Krugman* admires Molly Ivins? Both are intellectually dishonest. Both are Bush-haters.
* "Op-Ed columnist Paul Krugman has the disturbing habit of shaping, slicing and selectively citing numbers in a fashion that pleases his acolytes but leaves him open to substantive assaults" (Daniel Okrent, "13 Things I Meant to Write About but Never Did," The New York Times, 22 May 2005).
Does anyone out there use Windows Media Player? I have my entire music collection (approximately 7,000 songs) on my computer. I can get the songs to play in random order, which is nice, and I can go to particular songs and click "play," but for the life of me I can't figure out how to play an album. This would seem like the sort of thing many people would want to do, but if it's possible, it's all but impossible to figure out how to do it. Help!
Addendum: As my sainted mother would say, "Never mind." Here's the trick. Drag the album icon into the playlist on the right, then click "Turn shuffle off." Duh! You're wondering which album I'm listening to, aren't you? Aren't you? It's Bachman-Turner Overdrive, Not Fragile (1974). I'm rocking to "Roll on Down the Highway." It's Canadian night! Yeehaa!
Does anyone plan to watch the Super Bowl? Most of the Super Bowls I've seen have been duds, with one team dominating the other. I'll probably watch the second half of the game, studiously avoiding commercials. Sometimes I think the Super Bowl is a long commercial, interspersed with snippets of football. This year's Super Bowl teams are the Chicago Bears and the Indianapolis Colts: two teams from mid-America. Peyton Manning of the Colts is, by all accounts, a great quarterback, but he will never be truly great, in the mold of Joe Namath, Joe Theismann, Joe Montana, Steve Young, Troy Aikman, John Elway, and Tom Brady, until he wins the biggest game in his sport, which is the Super Bowl. Prediction: Chicago 35, Indianapolis 20. Make your predictions now, or forever hold your peace.
Addendum: It's halftime. Indianapolis leads Chicago in the rain, 16-14. This game will go down in history as the Greased-Pig Bowl.
Addendum 2: Indianapolis won, 29-17. I stopped watching when Chicago's Rex Grossman began throwing the ball into the air and shouting, "Catch it, someone, catch it; please!" It was sickening. He was no good when he played for Florida, and he's no good now. Congratulations to Peyton Manning and the Colts. Manning joins the greats.
Some of you are snowed in, so what I'm about to say won't impress you. It's snowing! In Fort Worth, Texas! What's odd is that the temperature is 35.8º Fahrenheit. You'd think we'd have rain or sleet rather than snow. But it's definitely snow coming down—and it's beautiful. If it keeps up, we'll have a winter wonderland for the second time this winter.
This blog had 46,116 visitors (visits, actually) during January. That's a record, as you can see by this graph: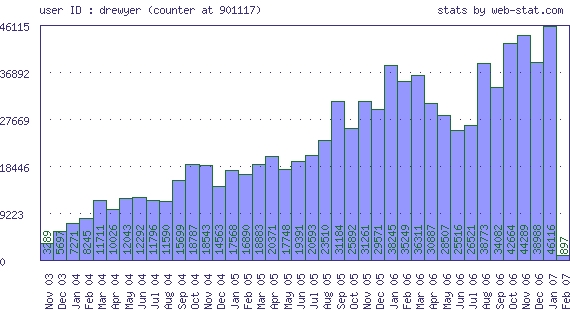 An average of 1,487.6 people came to this blog each day during January. I've heard that University of Tennessee law professor Glenn Reynolds (a.k.a. InstaPundit) gets a million visits per day. That's mind-boggling. I'm not sure I'd want that many visitors. It would put pressure on me to say something interesting each day. Oh hell, who am I kidding? I'd take it.
To the Editor:
Re "Essay Linking Liberal Jews and Anti-Semitism Sparks a Furor" (Arts pages, Jan. 31):
The verbal onslaught against Zionism and the Jewish state is disturbing when it goes so far that it opposes Israel's right to exist. The condemnations from a former president as well as the outrageous comments from Iran's leader embolden anti-Semites. The line between legitimate criticism of Israel and anti-Semitic statements is blurry.
But we live in an era of religious extremism justifying inhumane violence. Jews need to play defense and avoid adding fuel to the fire of hatred that evades containment.
The Holocaust gave a basis for the creation of Israel. We shouldn't take the existence of Israel for granted. Perhaps circumspection on the part of its critics isn't too much to ask.
Steven A. Ludsin
East Hampton, N.Y., Jan. 31, 2007
The writer was a member of the President's Commission on the Holocaust and the original United States Holocaust Memorial Council.
There are three reasons why I read TrippingOnWords. First, Lara and Claire are good writers. Second, they're witty. Third, they travel all the time, so I don't have to. The best travel is vicarious travel. Here is the latest post, in which Lara explains how the Internet works.
Peg Kaplan is one of the few people I've known who lives with birds. The things she tells me about her avian companions (Mr Mollo et al.) are amazing. See here for Peg's post about cockatoos. By the way, Peg is rapidly closing in on 100,000 visitors. It seems like yesterday that she started her blog. I want to be the 100,000th visitor.